Over the summer, we saw the launch of Bilt Rewards – an extremely enticing value proposition for renters, offering the first ever large scale opportunity to earn points (transferable to airline and hotel programs) for paying rent and with no fee.
Not content to own the rental market, they have just reconfigured their Mastercard product offering and appear to be going head to head with some of the major banks with respect to offering a no fee card with bonus multipliers on some pretty enticing categories.
Here's the update from Bilt:
Starting September 21, Bilt Rewards is introducing an even more rewarding earning structure, additional member benefits, a simpler status program, and an additional point transfer partner.
INTRODUCING 0-1-2-3 EARNINGS WITH THE BILT MASTERCARD:
Bilt Mastercard is the card for where you live, where you travel, and where you dine. That's
why we've taken user feedback from our first 3-months in-market to realign the points earning structure for cardholders, ensuring that we are offering the highest-value rewards card for the categories that matter most to Bilt users.
Here's how the new 0-1-2-3 points earning structure breaks down:
● $0 annual card fee
● 1x on rent payments with no fees (on up to $50,000 in rent payments every year)
● 2x points on travel (when booked directly with an airline, hotel, car rental or cruise
company)
● 3x points on dining
Plus
● +1x points on all other purchases
Cardholders must meet a minimum of 5 card transactions per statement period in order to earn points. All new cardholders will earn 2X points on all purchases for the first 30 days.
With 0-1-2-3 earnings, Bilt Mastercard will rank as one of the most competitive credit cards on the market — all with no annual fee.
ENHANCED BENEFITS & NEW STATUS TIERS:
Newly added benefits for all loyalty members include:
● Earn Interest on Points (Silver, Gold, Platinum)
○ A first-of-its-kind offering, Bilt will pay interest in the form of points to a member's
Bilt Rewards account every month, based on their average daily points balance
for each 30-day period.
○ The rate will be based on the FDIC published national savings rate found
here: https://www.fdic.gov/resources/bankers/national-rates/.
● Bilt's Homeownership Concierge (Gold, Platinum)
○ Members who opt to redeem Bilt Points towards their home down payment can
utilize the help of a dedicated concierge that will walk members through the home
buying process step-by-step.
● Bonus Points on New Leases or Renewals (Silver, Gold, Platinum)
○ Bilt will deposit up to 50% bonus points on top of points issued by landlords to
members for signing for new tenant leases and lease renewal., depending on
member status.
● Complimentary Bilt Collection Gift (Platinum)
○ Upon reaching Platinum status, members will receive a complimentary gift from
the Bilt Collection – an exclusive and curated assortment of home decor and art.
Bilt has simplified its status structure so that member status is based on total points earned over the calendar year, vs. monthly points accumulation. Points can be earned from any source such as rent transactions, non-rent transactions, bonus points, and more.
The new structure is as follows:
○ Blue – anyone enrolled in Bilt Rewards with under 25,000 points
○ Silver – 25,000 points earned
○ Gold – 50,000 points earned
○ Platinum – 100,000 points earned
Initial status benefits at each tier are outlined in the following chart. Additional status benefits will be rolled out in the coming months.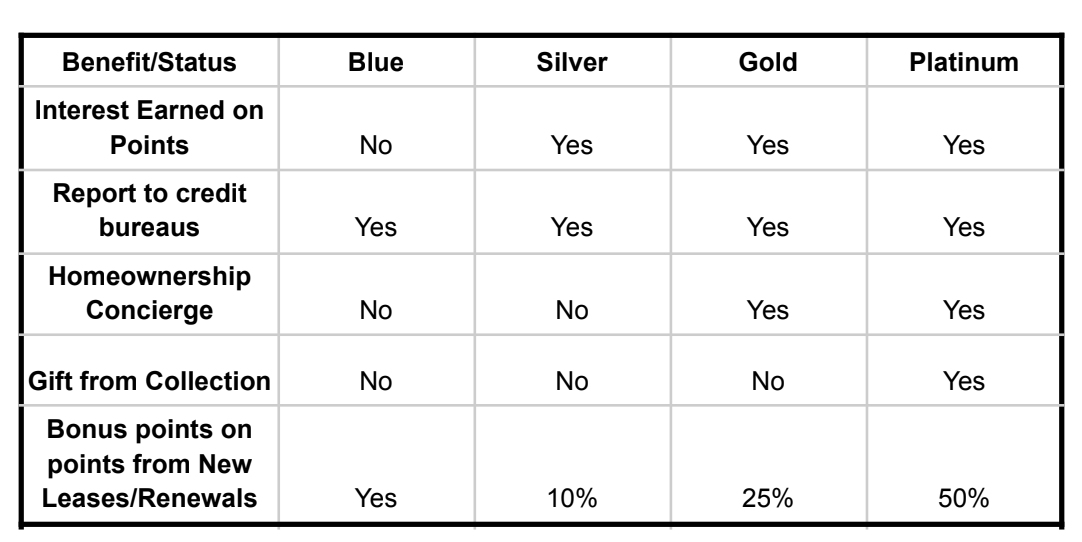 Status earned between Jan 1 and Jun 30 each year will expire Jan 31 of the following year.
Status earned between Jul 1 and Dec 31 will remain active the rest of the year in which it was earned and the entire following year.
INTRODUCING BILT'S NEW PARTNER:
The success of Bilt works in tandem with our wide-spanning partners across both the real estate and loyalty space. We are excited to announce the launch of a new loyalty partner this September.
● TRAVEL: IHG Hotels and Resorts will join Bilt Rewards as a transfer partner, enabling
Bilt members to transfer their Bilt Points 1:1 to IHG Rewards, where they can book
hotels in 6,000 destinations around the world. IHG premium brands include Kimpton,
Regent, Six Senses, InterContinental properties and more.
IHG Rewards joins Bilt's network of loyalty partners including American Airlines
AAdvantage, Aeroplan, Emirates Skywards, Flying Blue, Turkish Miles&Smiles,
Virgin Points, Hawaiian Airlines HawaiianMiles, and World of Hyatt.
All current benefits of the Bilt Rewards and Bilt Mastercard® remain including:
● 1:1 point transfers to American AAdvantage, World of Hyatt, Turkish Miles&Smiles,
Flying Blue, Emirates Skywards, Hawaiian Airlines HawaiianMiles, Virgin Points
● Mastercard World Elite benefits plus premium card benefits including Premium Cell
Phone Protection, Purchase Protection, World Elite Concierge, Rental Car Insurance,
Trip Cancellation, and Trip Delay Protection
● The ability to raise your credit score with all on-time rent payments reported to the credit
bureaus for no fee.
Earn Bilt Points by:
● Paying rent on time with the Bilt Rewards app
● Renting in the Bilt Rewards Alliance, you can earn points on everything from new leases,
lease renewals, referring friends to a lease, and more
● Earn up to 3 points/dollar by using your Bilt Mastercard on all purchases everywhere
Mastercard is accepted
If you already have a Bilt Rewards Mastercard, it will transition to the new earning structure automatically. If you are not, you can get more info at biltrewards.com/card (I have no affiliate relationship with Bilt)
Summary
I think it's very interesting to see the direction that Bilt is going in. They clearly are not content to own a small niche like rent, but rather seem to be using that to gain a foothold and expand into a larger fintech player via their credit card offering.
I also love the idea of Bilt paying interest on your points. I suppose it won't be a ton of additional points given the current rate environment, but I love the forward thinking. Points generally only lose value over time, so boosting them with interest is a long overdue concept.
Thoughts?
Let me know below in the comments, on Twitter, or in the private MilesTalk Facebook group.
And if this post helped you, please consider sharing it!
You can find credit cards that best match your spending habits and bonus categories at Your Best Credit Cards. 
New to all of this? My "introduction to miles and points" book, MilesTalk: Live Your Wildest Travel Dreams Using Miles and Points is available on Amazon and at major booksellers.