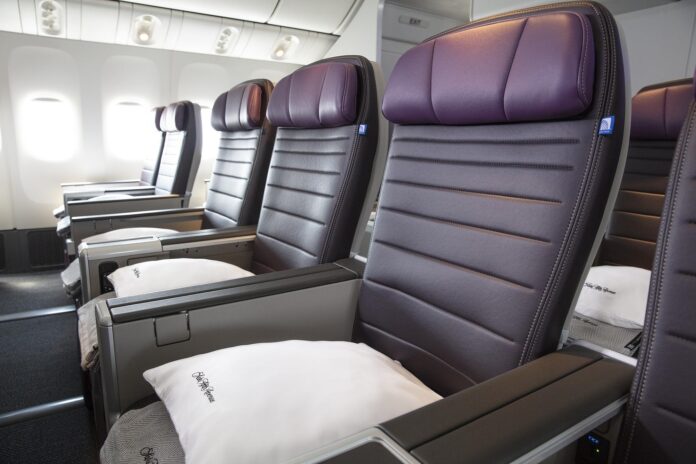 Sometimes, you really want to fly First or Business Class on a long flight like New York to LA or San Francisco, but the budget (even with points and miles) doesn't allow it.
In the US, premium economy is usually a bit of a misnomer. If you book Delta's Comfort+ product, for example, you are basically getting a few extra inches of legroom and some free booze. Worth some extra cost to some, but not to me. Same goes for United's Economy Plus and AA's Premium Economy.
A transcontinental flight can exceed 6 hours Westbound and 5 hours heading East, so wanting more comfort than the same seat with extra legroom allows is perfectly understandable. And while we all want First or Business Class, strong travel demand and an increasingly common use of revenue-based award pricing can make for limited options.
There's a middle ground, though, if you know where to look. For flights from New York to Los Angeles and San Francisco, there are now two solid "in between" options.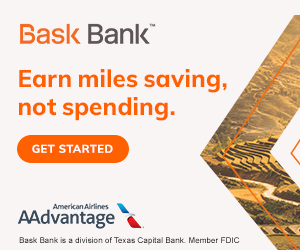 United "Premium Plus" on Transcontinental Flights
This version of United's Premium Economy is typically found on international flights only, but you can find it on flights from New York (EWR and JFK) to and from Los Angeles (LAX) and San Francisco (SFO).
You'll want to consult seat maps to be sure that it's Premium Plus, but happily it's well labelled if it's there.
All LAX/SFO flights from JFK are on a 767-300 featuring 2x2x2 in Premium Plus.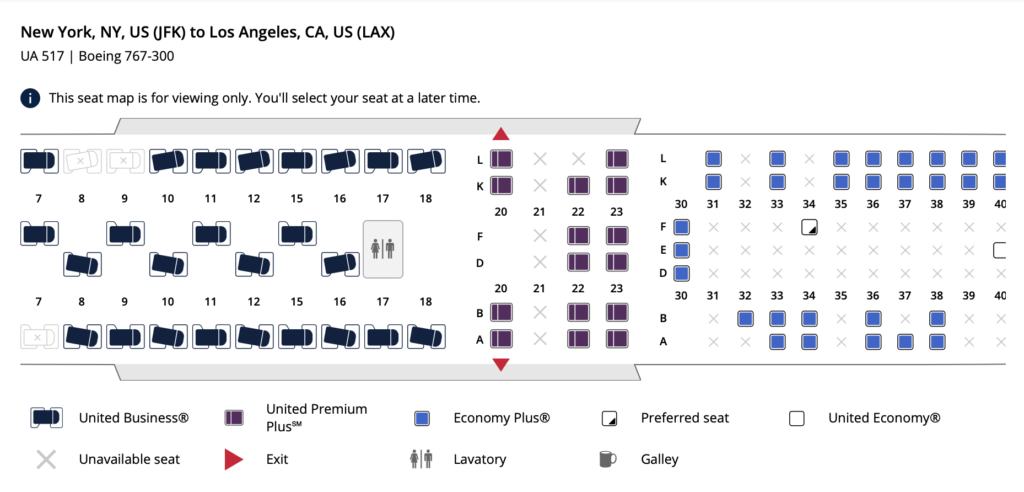 From Newark (EWR), the 787-10 Dreamliners have Premium Plus in a 2x3x2 configuration, while you may also find the same 767-300 configuration as the JFK route on select flights.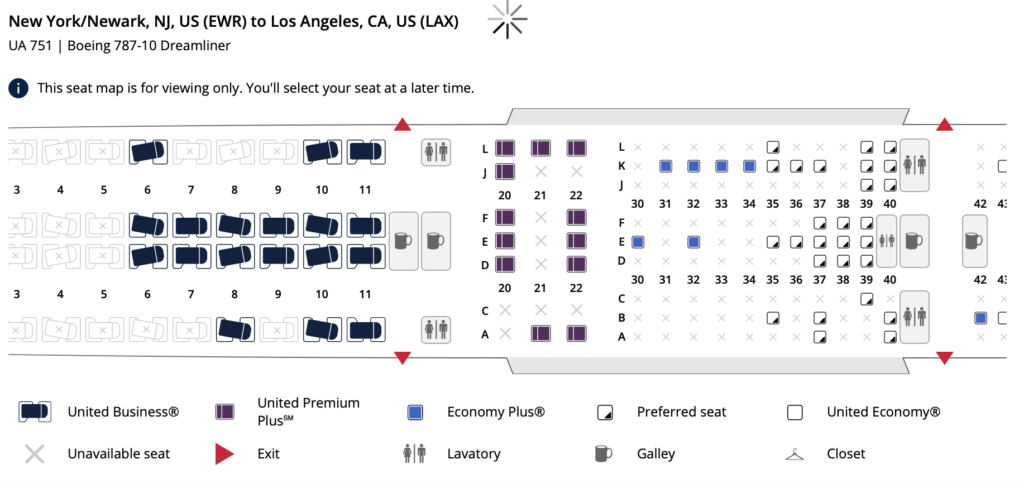 But other flights from Newark are on 757s, and these do not have a Premium Plus cabin. On these flights you can book Economy Plus, but these are purely the extra legroom seats, and not much more.
The Premium Plus seats are recliner style – think domestic First Class seats that don't lie flat – and are essentially the same as what Alaska Airlines uses as First Class. They have a nice footrest to improve comfort just a bit.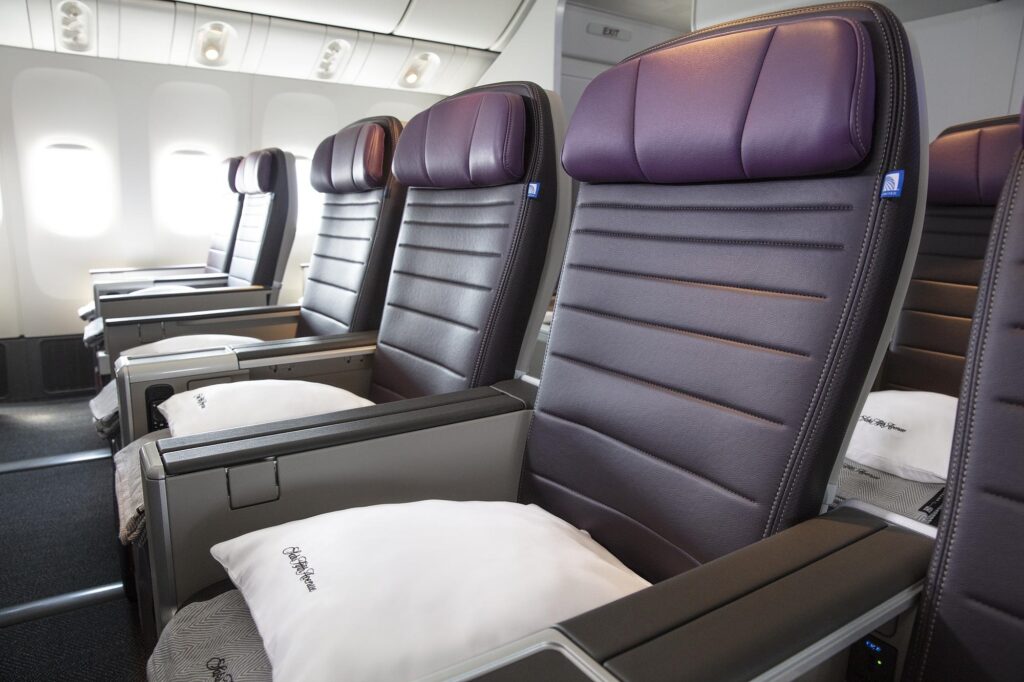 Of note, you'll receive a meal service in Premium Plus – similar to what is offered in Business Class. At least for now, don't expect a menu or anything…. the meal is likely "the chicken or the pasta" or something along those lines. Of course, on my last UA flight in Business from Hawaii to New York, there was no menu either.
United's Premium Plus Award Pricing
United prices transcontinental Premium Plus dynamically once the cabin fills up, but when most seats are still empty it seems to start at 30,000 miles and then rise to 40,000 miles for a while before going dynamic. Close to departure I've seen dynamically priced Premium Plus actually cost more than Business Class. But in advance, when United isn't releasing any partner awards that would enable you to fly coast to coast for just 12,500 Turkish miles, using 30,000 miles for Prem Plus could be a solid compromise.
Delta "Premium Select" on Transcontinental Flights
Delta has similar seats that they call Premium Select (as opposed to Comfort+).
On these transcon itineraries, they don't technically have a different category for the seat. They are bookable as "Comfort+, but the seats are actually Premium Select. If you had no idea what you booked, you would definitely be pleased!
Since this is MilesTalk, though, the goal is to know precisely what you are booking, scoring a nice upgrade in the process.
The Delta search results won't make this any easier.
You need to specifically find the flights that have 767-400 (76D) equipment operating.
For example, the first flight below is on a 767-300. You'll just get extra legroom and nothing more.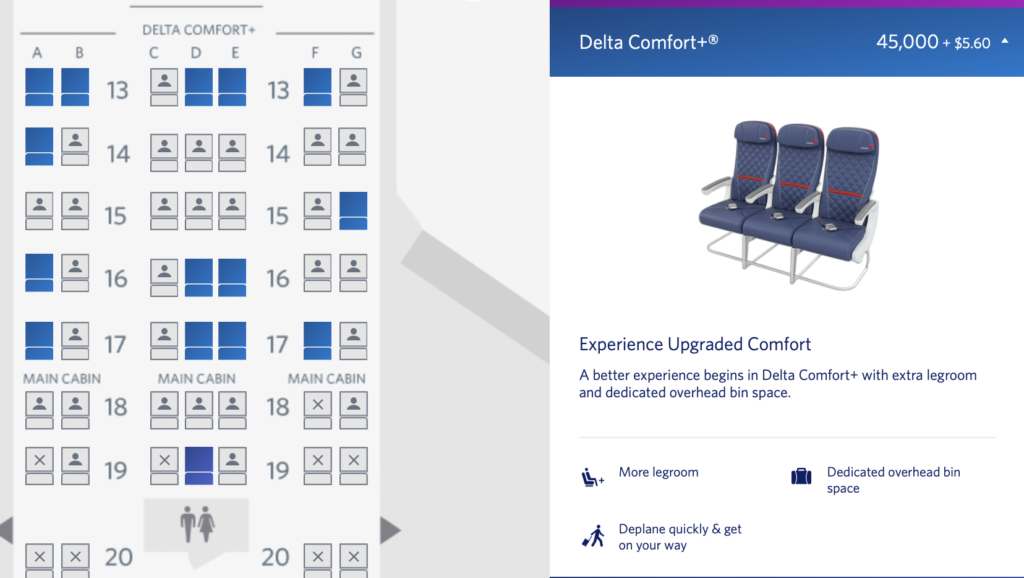 This flight (below) is on a 767-400. You can see from the seat map that you are looking for a Comfort+ cabin with 3 rows on both sides and 4 in the middle, all two seaters.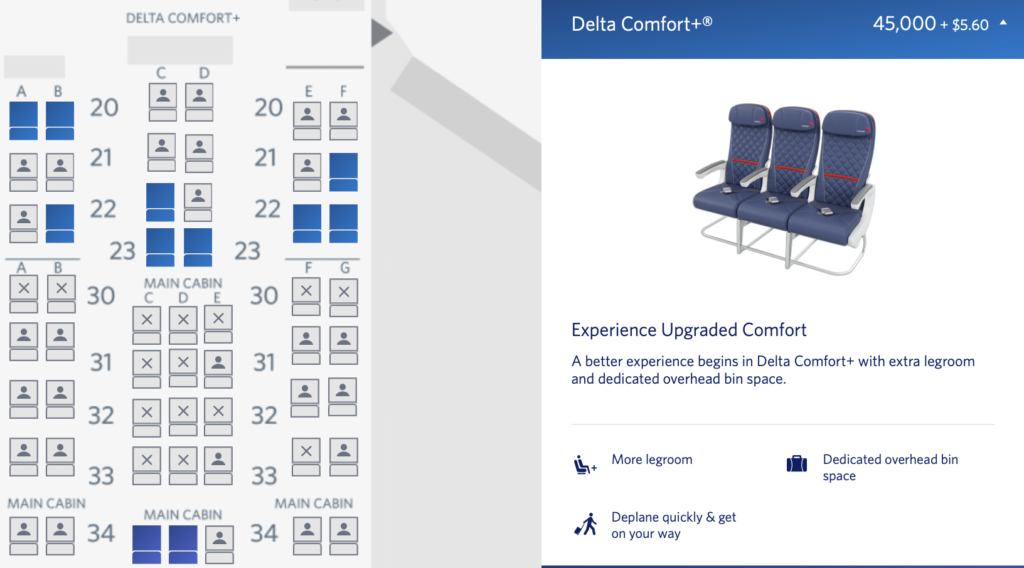 Note that the picture shows standard seats even though you'll get bigger recliner seats.
Delta put these 767-400 planes (which also have a newer Delta One cabin featuring seats that feel like suites, just minus the door) onto the transcon routes in 2021. We don't know if they will stick around once more international travel resumes, but fly them while you can! Note that you can also find Delta's true Delta One enclosed suites on the JFK-SEA route sporadically and those planes also feature the Premium Plus cabin sold as Comfort+.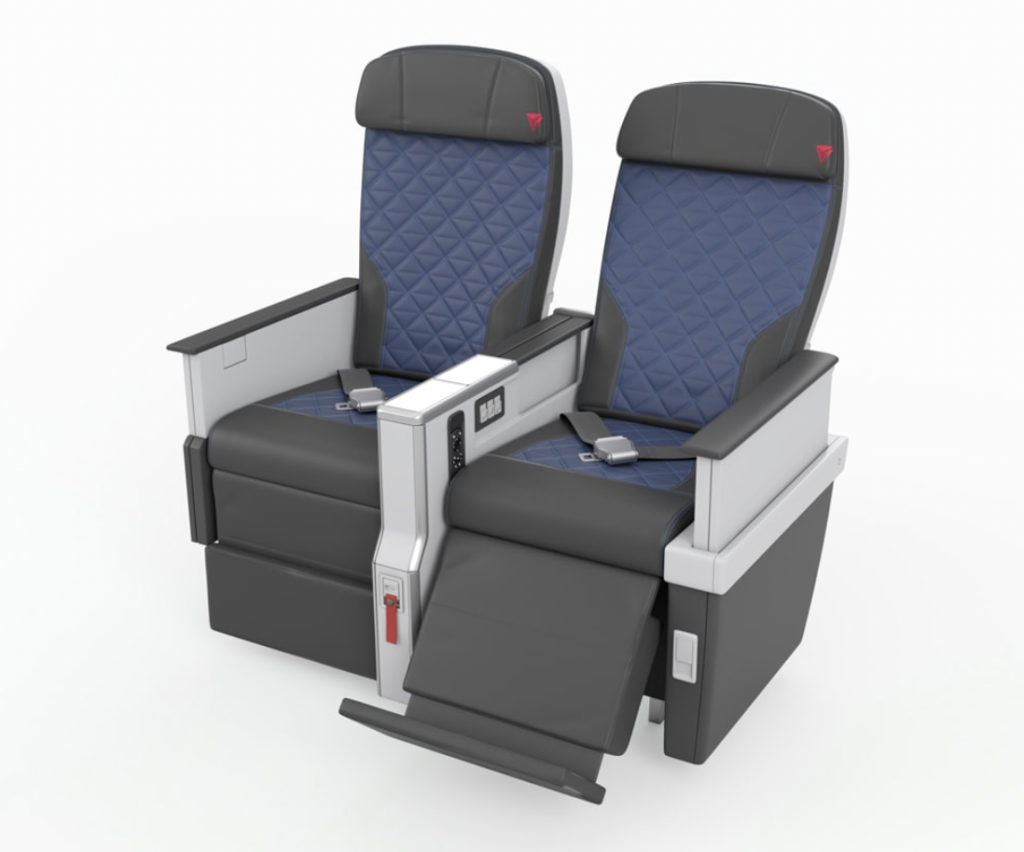 Delta's Premium Select Award Pricing
It's the same as Comfort+. With United, you'll often see Premium Plus at 40k while Business is 50k, making it a tough choice.
With Delta, however, you won't find a transcon in Delta One under 75,000 SkyMiles, where you may find a Premium Select seat sold as Comfort+ for less than half that. It's an even easier decision with Delta.
Bear in mind that since Delta isn't selling these as Premium Select, they could do an equipment change that leaves you in a standard seat. In that case, I'd call and ask them to switch you to a flight operated by a 767-400. They wouldn't have to, but I suspect most agents would if you explained why.
Bottom Line
In most cases, you aren't getting a tremendous value if you purely calculate the points to cash redemption rate (cents per mile), but when you can't make that transcontinental flight work in Business Class, these represent a decent value for a very comfortable flights.
With the ability to free change or cancel awards, these are also great "backup" options. You can book to have a solid flight booked and cancel if you find something more premium open up, like an American Airlines award seat you can book with Etihad miles or a United seat that you can book with Turkish miles.
Thoughts?
Let me know below in the comments, on Twitter, or in the private MilesTalk Facebook group.
And if this post helped you, please consider sharing it!
You can find credit cards that best match your spending habits and bonus categories at Your Best Credit Cards. 
New to all of this? My "introduction to miles and points" book, MilesTalk: Live Your Wildest Travel Dreams Using Miles and Points is available on Amazon and at major booksellers.