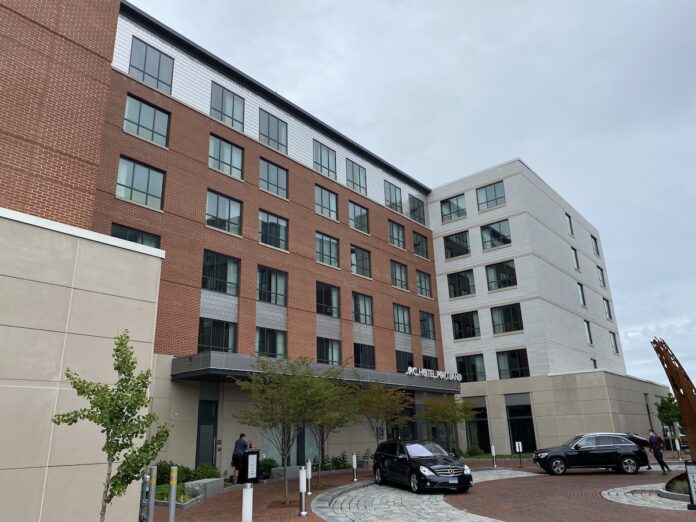 When looking for a hotel to stay at in Portland, Maine last week, I had one "Maine" requirement. I wanted a Category 5 or under, so I could use a credit card free night certificate for a night worth up to 35,000 points. Between my wife and I, we had 5 free night certificates and we decided that, so that we could splurge on a non-chain hotel in Acadia National Park / Bar Harbor later in the week, we'd use Free Night Certs for Portsmouth, NH and Portland, Maine.
The AC Hotel Downtown Waterfront, Portland, Maine
In Portland, the choice was an easy one. The AC Hotel Portland DowntownWaterfront is the only Category 5 option. The only other points hotel we were considering was the Hyatt Place Old Port, which has a handful of Suites with outdoor space. The Hyatt Place is actually centrally located in the Old Port area while the AC Hotel is just off on the edge of it. That was definitely a consideration.
However, I couldn't secure one of those balcony rooms, so I decided that we'd use my 3 available Free Night Certificates (from a combination of the Marriott Bonvoy Business credit card, the Marriott Bonvoy card (no longer available for new applicants), and the Chase Bonvoy Boundless credit card.
Each of these Free Night Certificates really means a $95 night ($125 on the Marriott Bonvoy Business) since that is the cost of the annual fee. As long as I can get ~$200 or so in value, I'll happily use a certificate for a half price room. Rooms at the AC Hotel Portland were going for about $210 a night during our stay.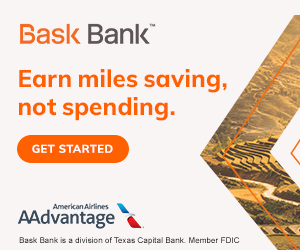 The Gamble
We very much wanted a larger space for these 3 nights as we'd both be working during the day in the room. A "workcation" if you will, allowing us to spend 9 days in Maine without really being away from work. When you use a Bonvoy Free Night Certificate, you can only book the base level room. The AC Hotel Downtown Waterfront has 9 Suites, but the rest of the rooms are all quite small, with the view and corner or non-corner being the main distinctions.
I applied 3 "Suite Night Awards" from my Marriott Choice Benefit selection from Platinum re-qualification in 2020, something that was especially easy this year after Marriott gifted a percentage of last year's nights to elites.
The 9 suites all looked fantastic and huge. So the gamble was, obviously, the SNAs clear and we're golden or they don't and we are kind of stuck.
Unfortunately, we lost the gamble – initially. I got the message in my Bonvoy app that my Suite Nights were DENIED. (Yes, that is really how they present the message that your SNAs didn't clear.)
Dismayed, I still chatted with the hotel before check-in, not expecting an upgrade if there weren't any to give, but to make sure we at least(as Titanium Elite) would be prioritized for the biggest possible room given we'd be working there (and with a dog, no less).
And then, on arrival, the gamble paid off. We'd gotten super lucky and they had a suite become available at the last minute. It was actually the best room in the house, a harborview one-bedroom suite.
The suite was absolutely fantastic. Pictures below. It was a full one-bedroom with a spacious bathroom (with doors both in the bedroom and the living room), a dining table, a couch in the living room and a couch and two chairs in the bedroom. The only small oddity was the frosted glass door for the bathroom with the toilet roughly 4 feet from the bed. A bit, umm, personal…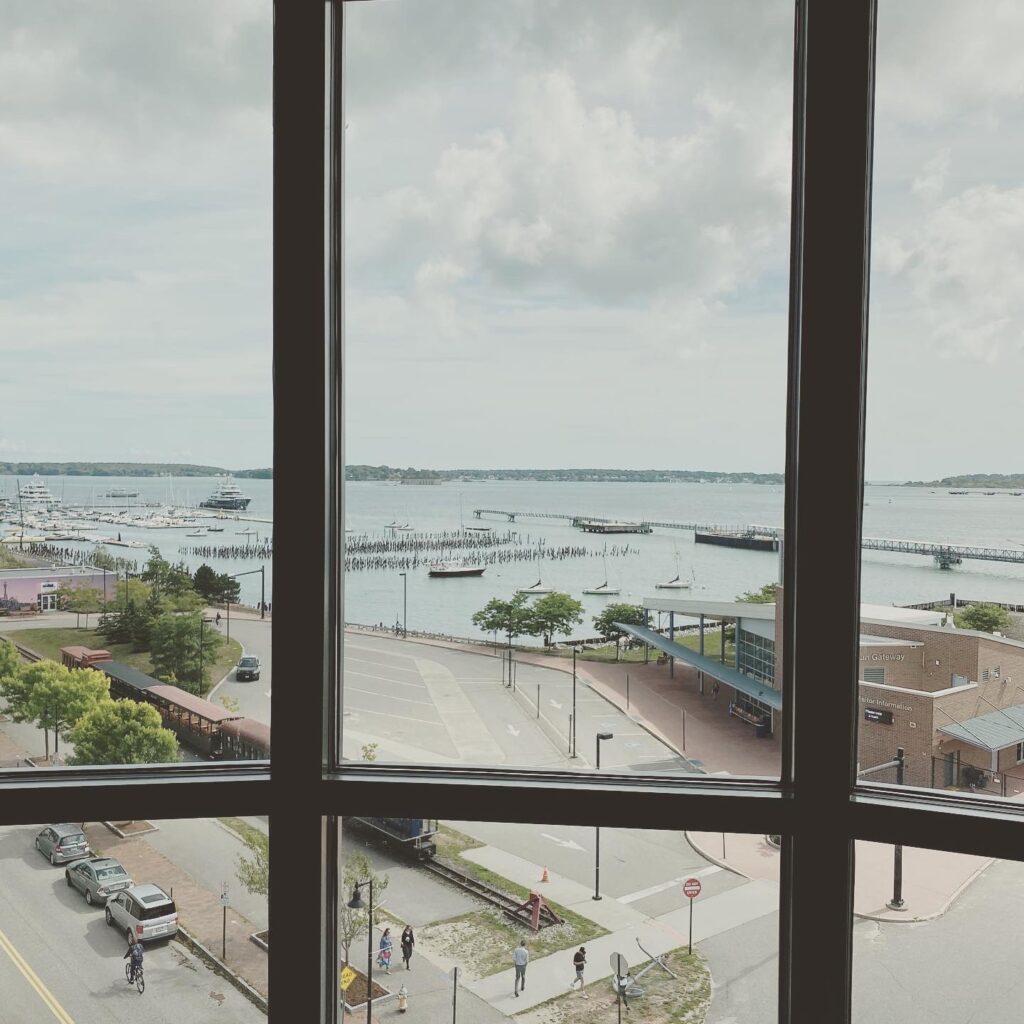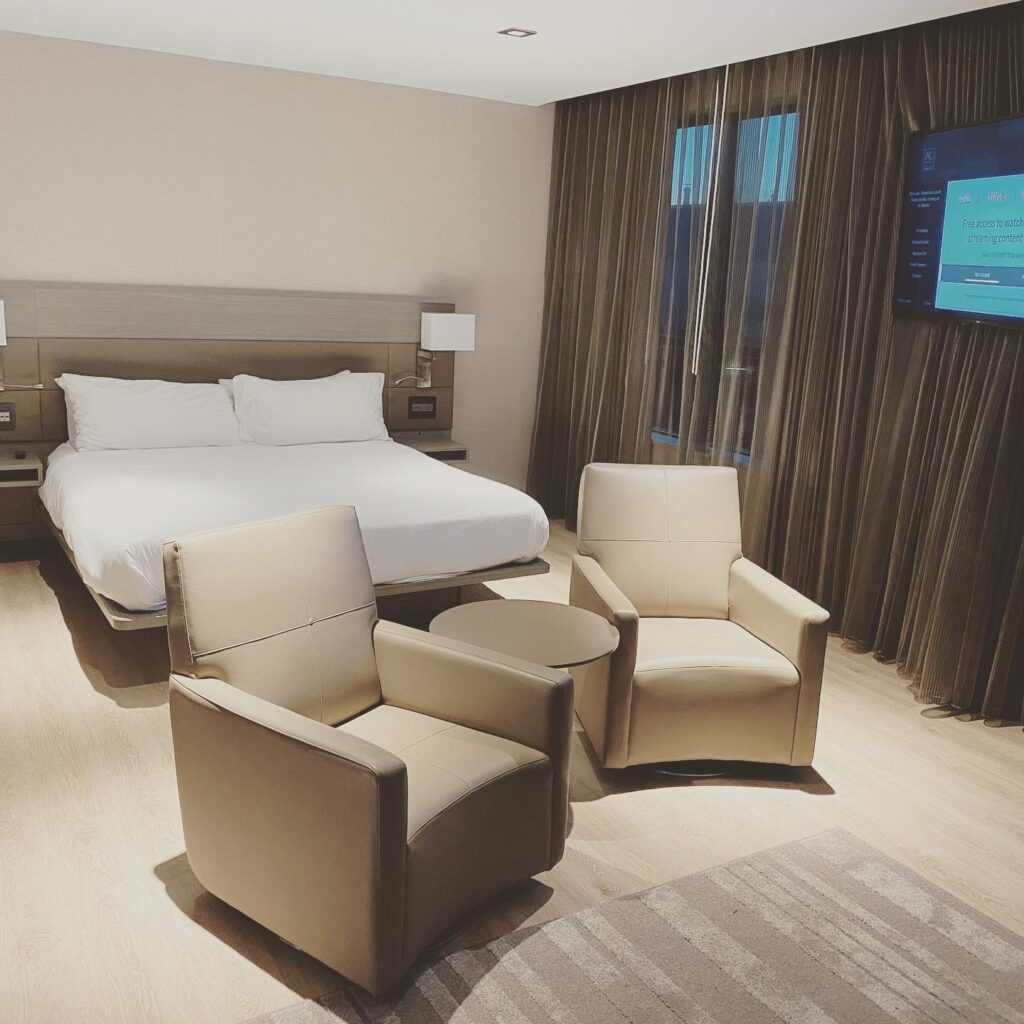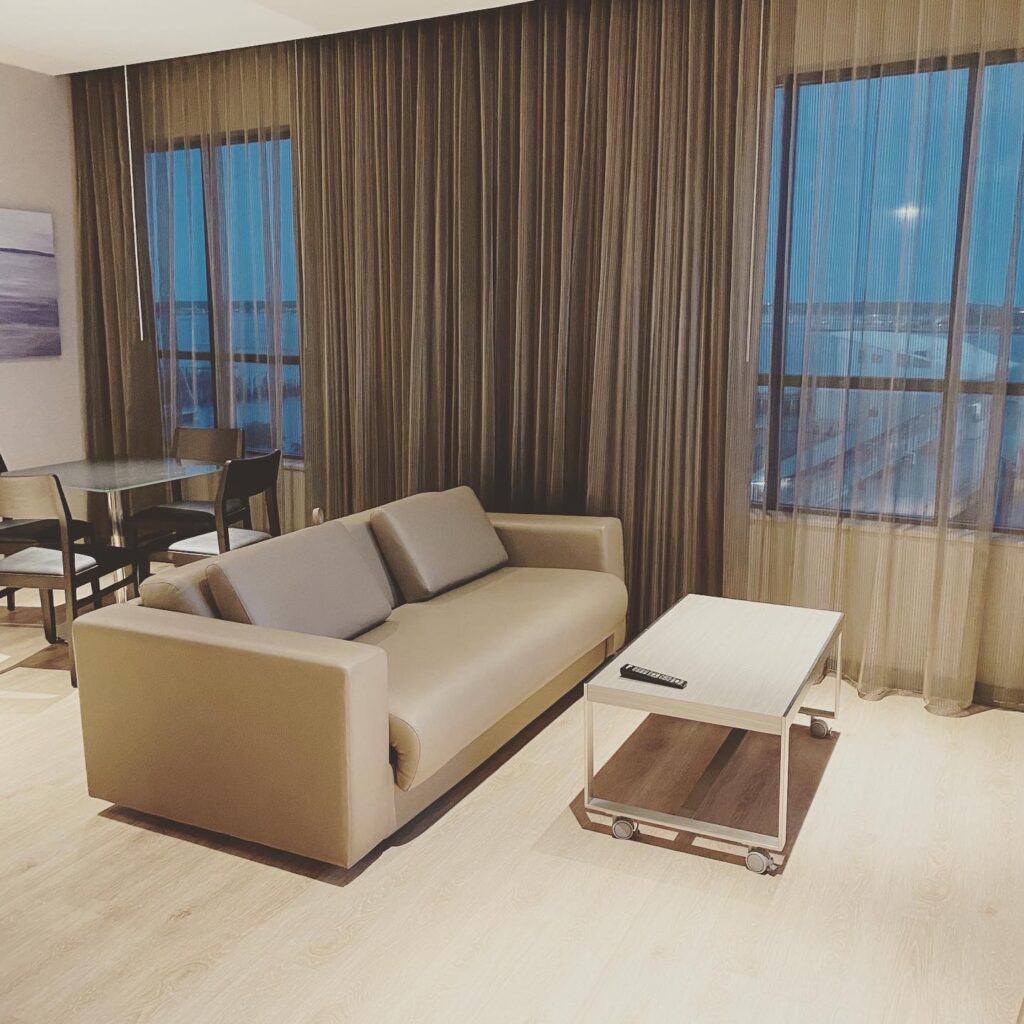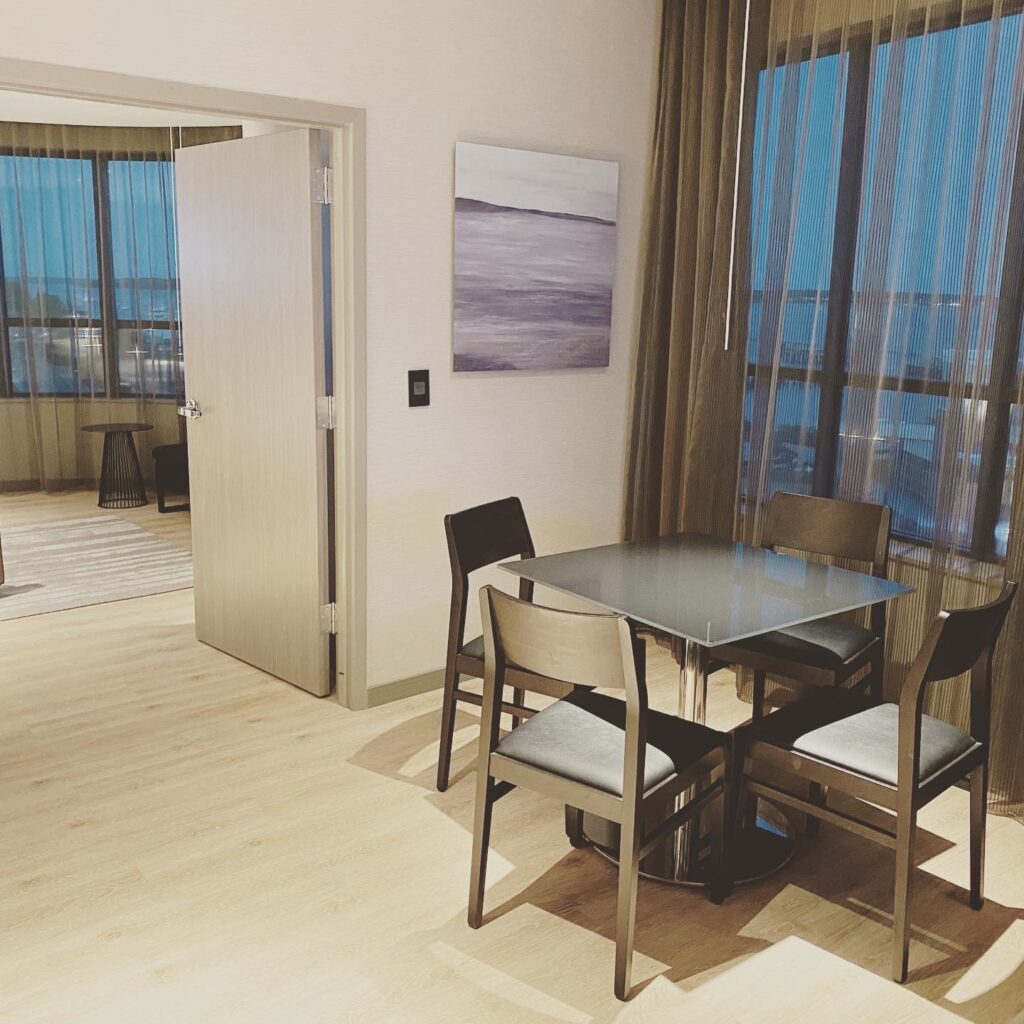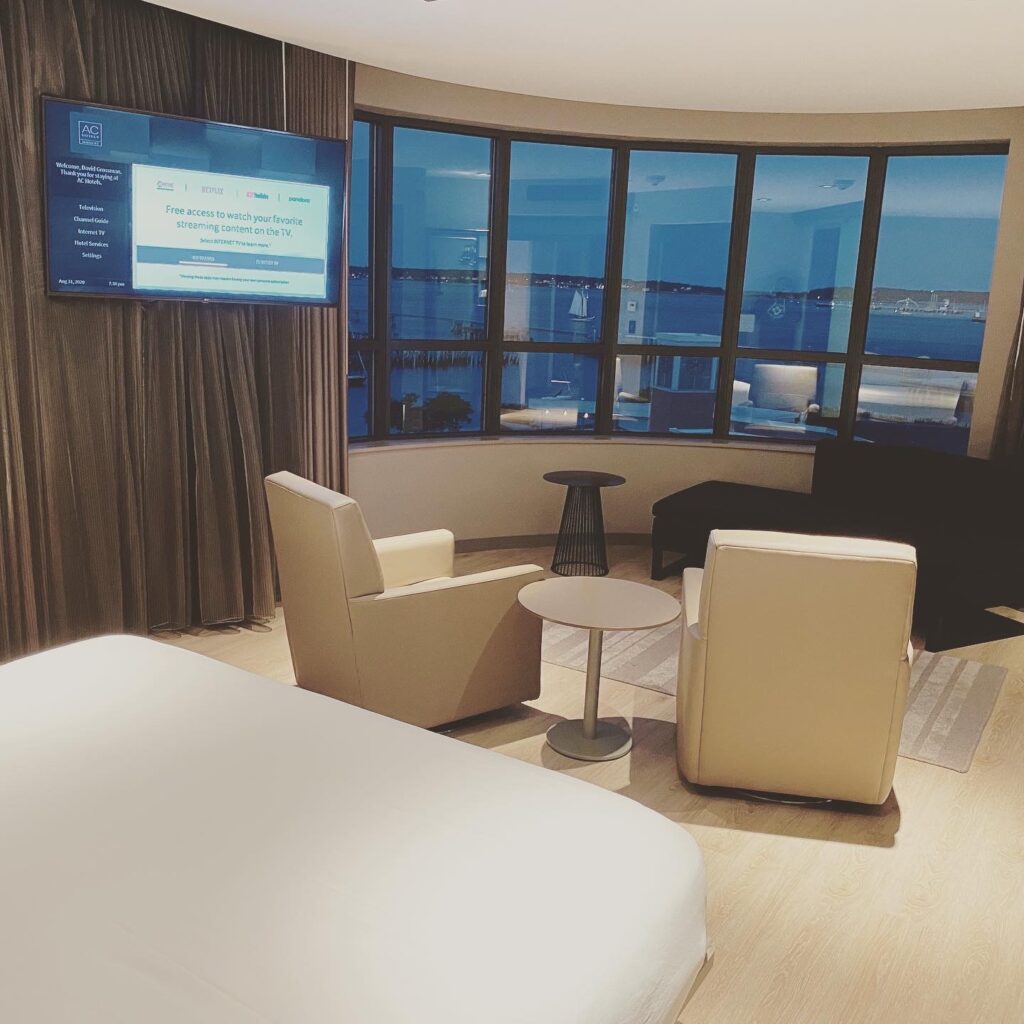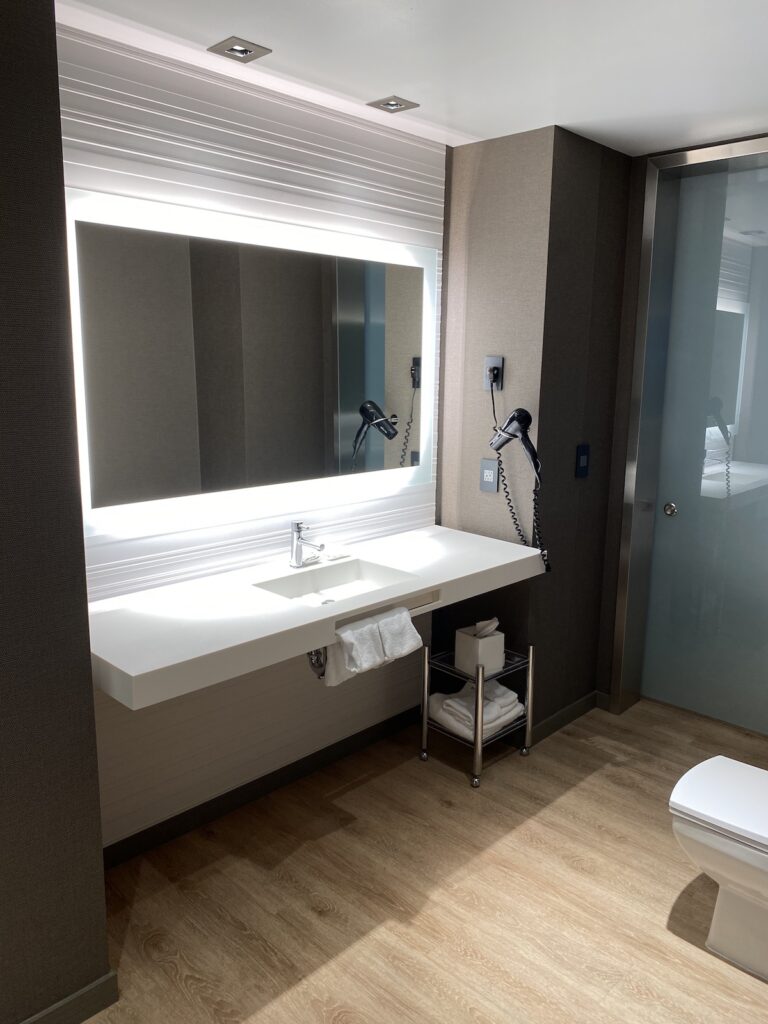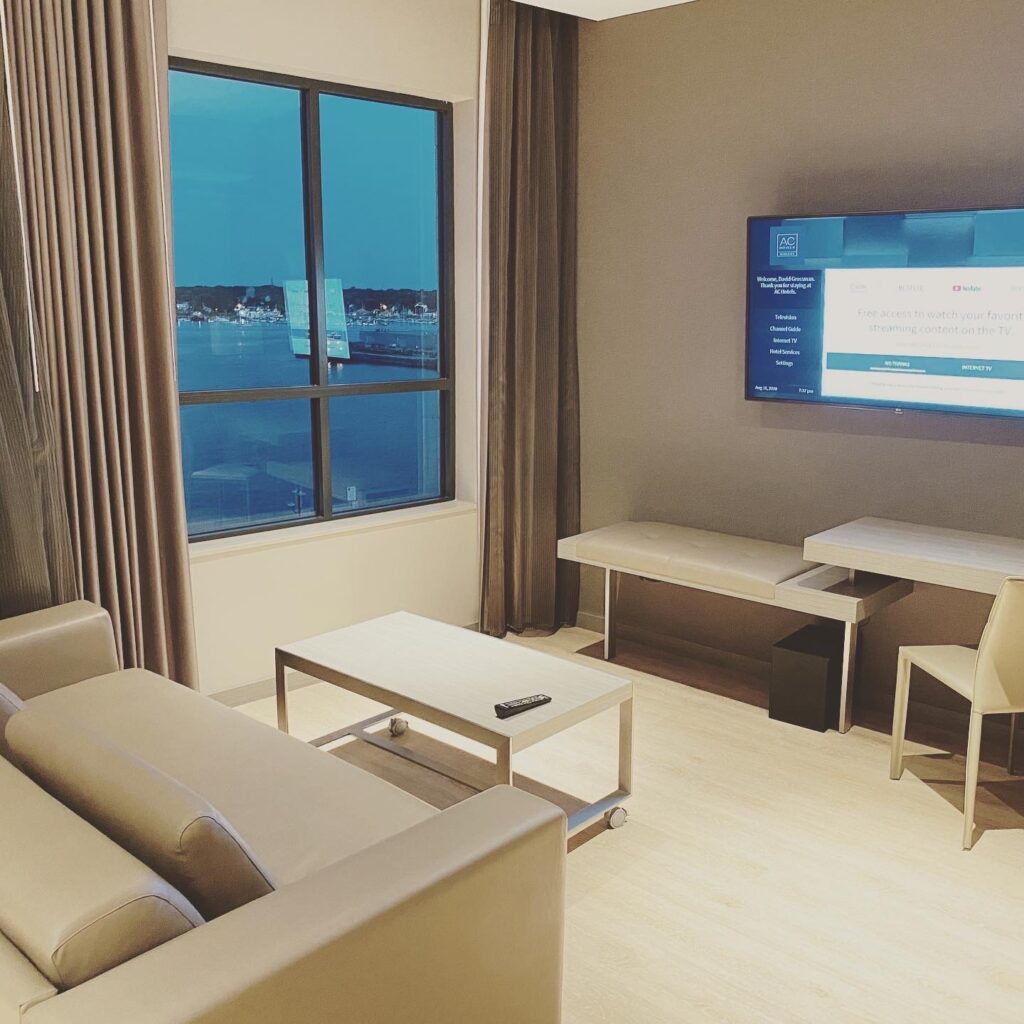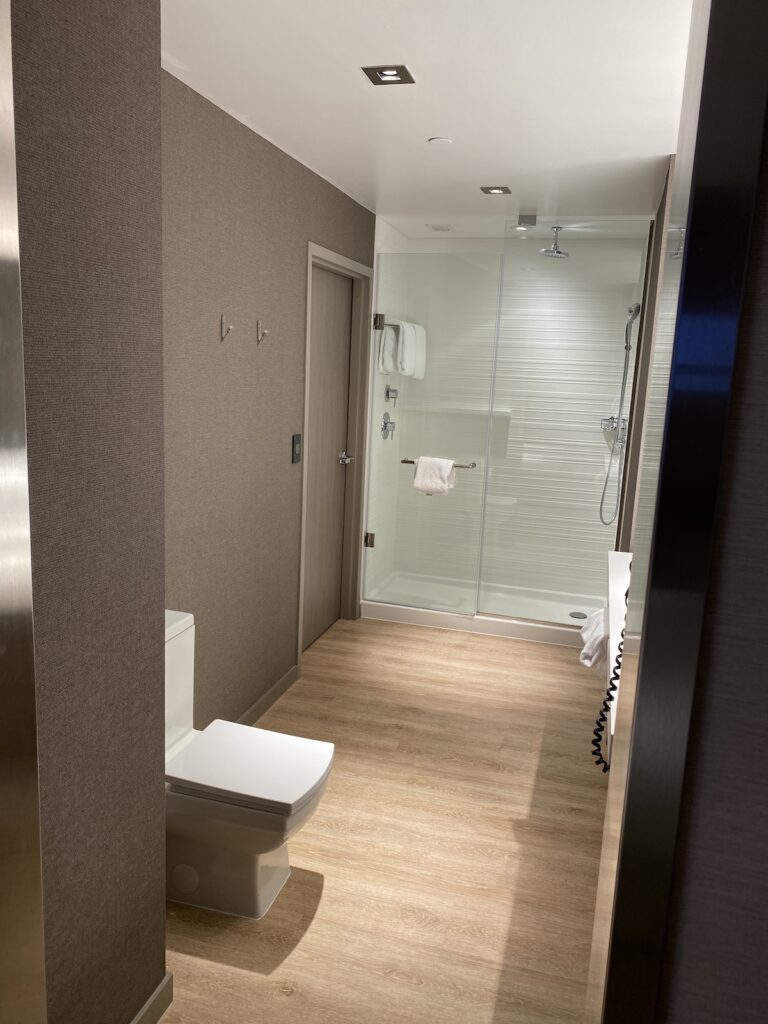 What you need to know about the AC Hotel Downtown Waterfront, Portland, Maine
Note that our stay was during COVID. Modifications included just a small grab and go breakfast (pastries/fruit) and reduced hours for the bar/tapas restaurant which served food from 4-9pm. The gym was also closed.
The staff at this hotel is possibly the best, overall, that I've ever encountered domestically. From the valet who cheerily suggested the public lot ($15/day) behind the hotel when I expressed reluctance to have people touching my car during COVID, to whomever processed our Suite upgrade, to the person that checked us in, to the cheery hellos every time we passed reception, and to both bartenders we interacted with during our stay, every member of staff was an A+.
Elite Benefits: Platinum elites and above get a $10 per person daily food and beverage credit. So, we had $60 for three nights. We didn't use it quite evenly per day and they happily credited it all anyway.
Parking: The valet is $30 or, as mentioned above, there is a public Pay and Display lot behind the hotel. It's less than 5 mins from the spot to the hotel. You can also buy multiple days all at once in one day increments.
Location: Vitally, you should know that this hotel is not right in the center of the Old Port area. It's a 5-10 min walk to most places you might go, though the famous Duckfat is just two blocks away. Still, it's close *enough* to walk everywhere in the Old Port area for things like Holy Donuts. You can also walk in just a few minutes to the ferry terminal to grab a ferry to Peak Island (this is where everyone rents a golf cart ($35/hr) to tool around the island. Fun in peak summer; not so fun outside of that.

DuckFat Poutine with Duck Confit

Holy Donuts – Portland, Maine

Breakfast: This was our biggest struggle, with the hotel not offering a real breakfast and the slightly out of the way location.. There is a nice local coffee place called Coffee By Design just a 5 minute walk up India St, but they don't have much in the way of breakfast beyond some wrapped muffins and pastries. A new coffee shop was getting set to open just next door to the hotel on the water. Perhaps they'll have more selection on that front?
The tapas restaurant/bar had great bartenders and they had some tables outside if you, like us, aren't ready to de-mask indoors yet. The food menu was quite limited but it was great for drinks. Very reasonably priced as well.
Overall Review: AC Hotel Downtown Waterfront, Portland, Maine
If you need "prime" location, look elsewhere. This hotel is just off to the side of the main tourist area. However, for a mid-range hotel that you can book with Marriott Bonvoy points or free night certificates and where you'll get first-rate Marriott Bonvoy elite recognition, it's hard to expect more than a brand new, modern hotel with amazing staff.
Have you been to Portland, Maine? Where'd you stay?
Let me know below in the comments, on Twitter, or in the private MilesTalk Facebook group.
You can find credit cards that best match your spending habits and bonus categories at Your Best Credit Cards. 
New to all of this? My "introduction to miles and points" book, MilesTalk: Live Your Wildest Travel Dreams Using Miles and Points is available on Amazon and at major booksellers.