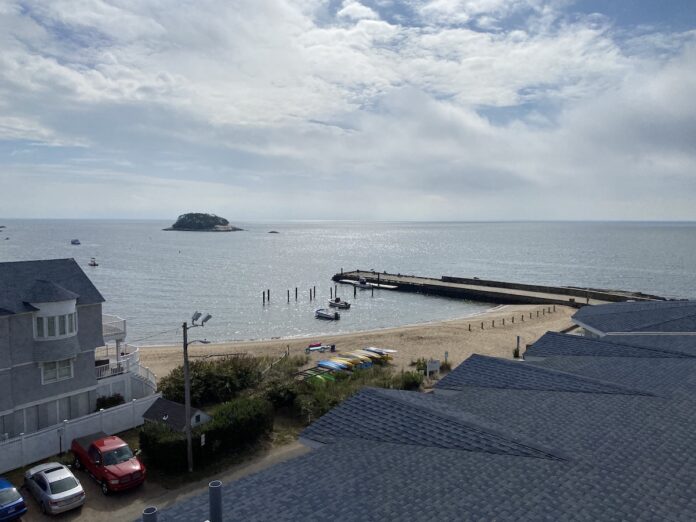 The Madison Beach Hotel, Curio Collection – Overview
The Madison Beach Hotel is a Curio Collection property located on the southern shore of Connecticut in the town of Madison. It's about a half hour east of New Haven.
It's indeed right on the beach (Long Island Sound) and, in fact, every single room has a beach view, though some are more head on than others.
The hotel has a restaurant on-site for lunch and dinner. Unfortunately, they are not currently serving breakfast at the restaurant (in 2020).
They also have complimentary beach chairs, kayaks rentals and bike rentals.
How to Book the Madison Beach Hotel with Points
As a Curio Collection property it is bookable with Hilton Honors points. If you book 5 nights, the 5th night is free and the maximum per night cost will be 80,000 points (assuming a standard room is available). If the cash prices are a bit lower, the rate in points will be as well.
We stayed for 2 nights in September at a cost of 64,000 Hilton Honors points per night. The cash room rate was approximately $500+ tax that weekend, yielding us over 0.8 cents per point in value (Hilton Honors are "worth" 0.5 cents per point, so a better redemption that than is generally worth while. If I stayed 5 nights, the 5 night free would make the yield even better.
Our Stay
We had a very nice and relaxing two days at the Madison Beach Hotel. We were given room 411 at the far end of the top floor. The room was a good size and had a terrace to sit and relax with the view of the beach and the water.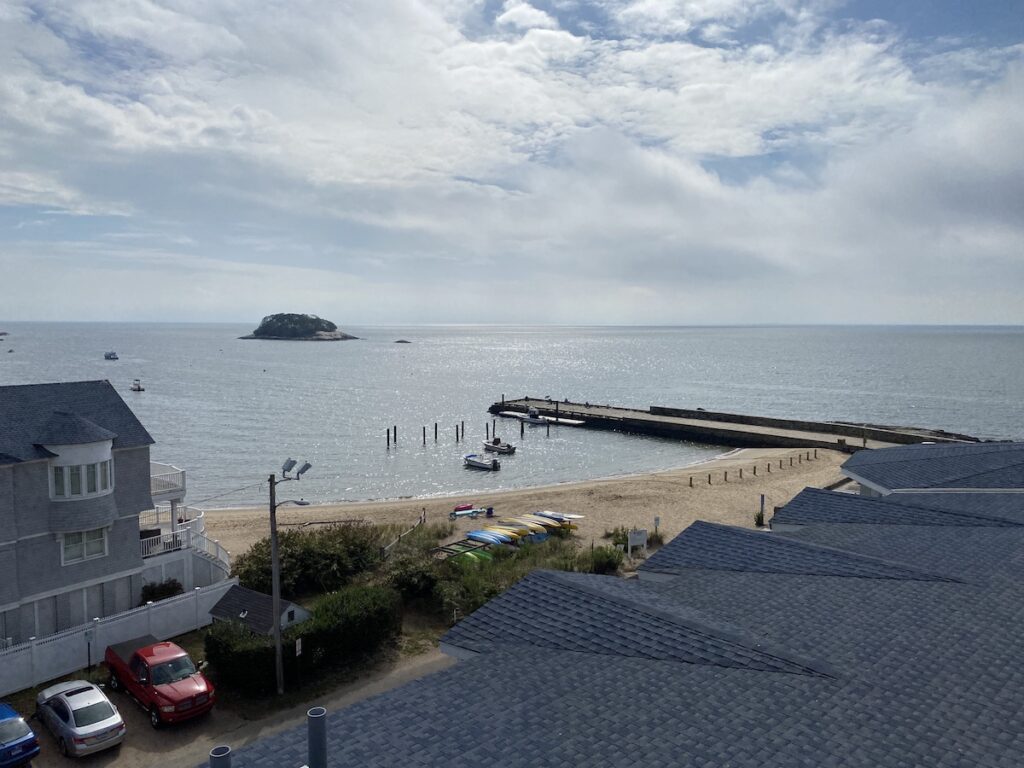 It would be nice if they had more "loungey" chairs out there… it was nice to sit for a short time, but lounge chairs would be a nice touch and there is plenty of room.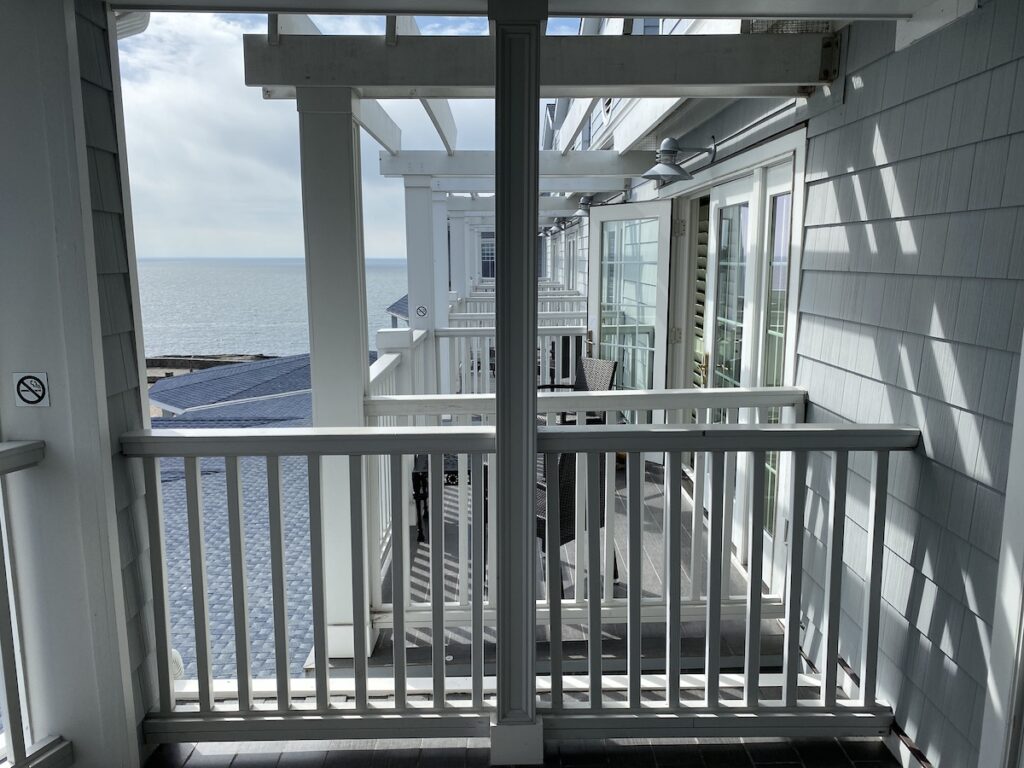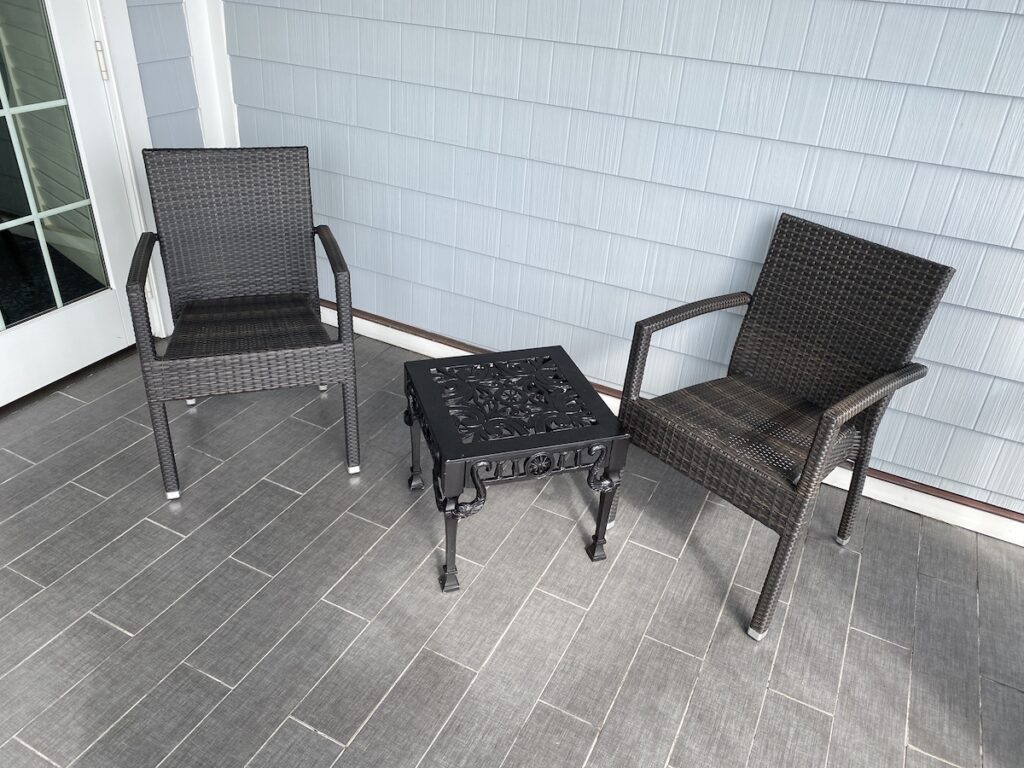 The other negative on the balcony was that all of the balconies are in a straight line. So we were two feet from our neighbor who was out there all the time. If they were staggered there would be much more privacy.
The room itself was nice, well sized, and well appointed with both a shower and soaking tub.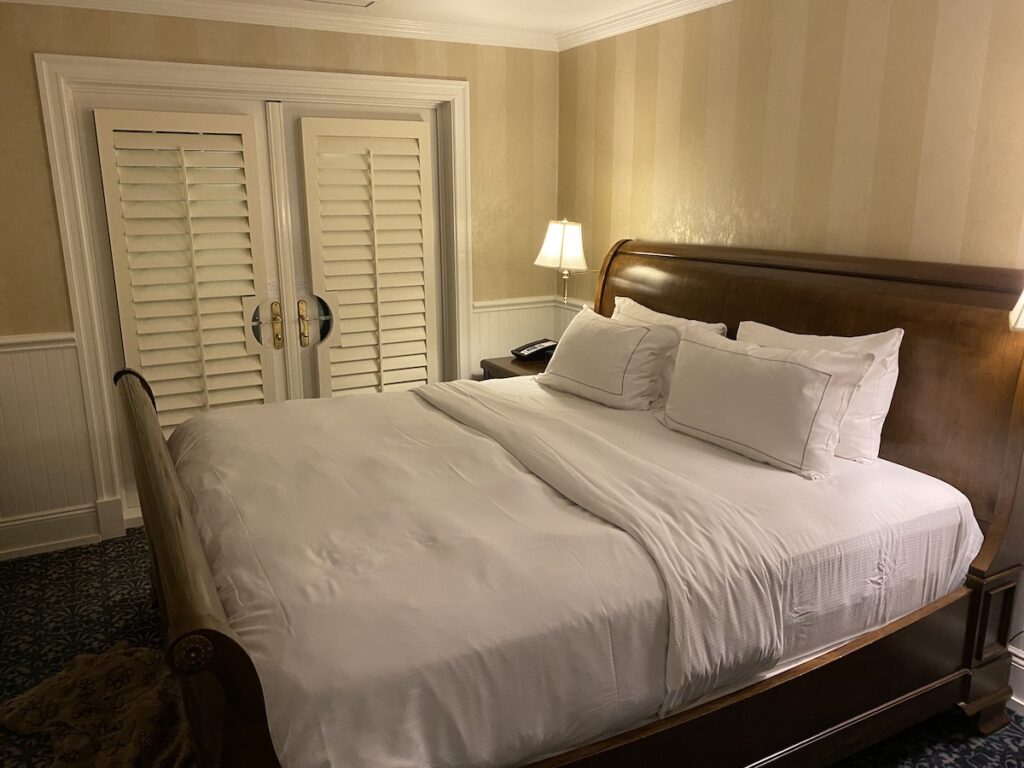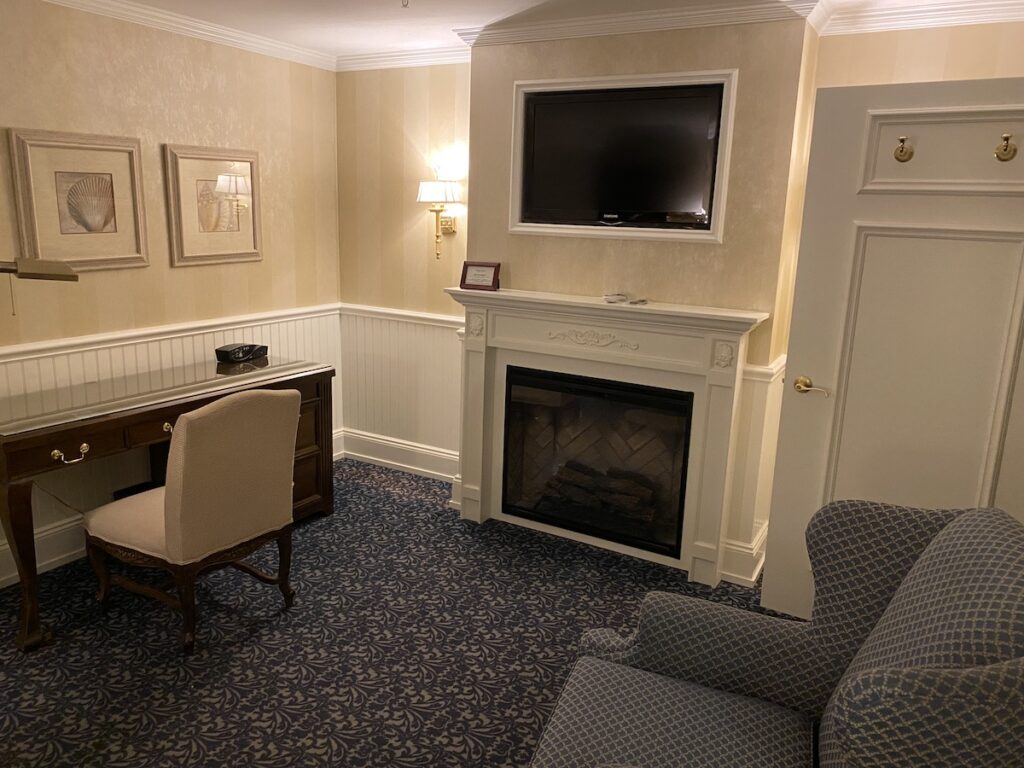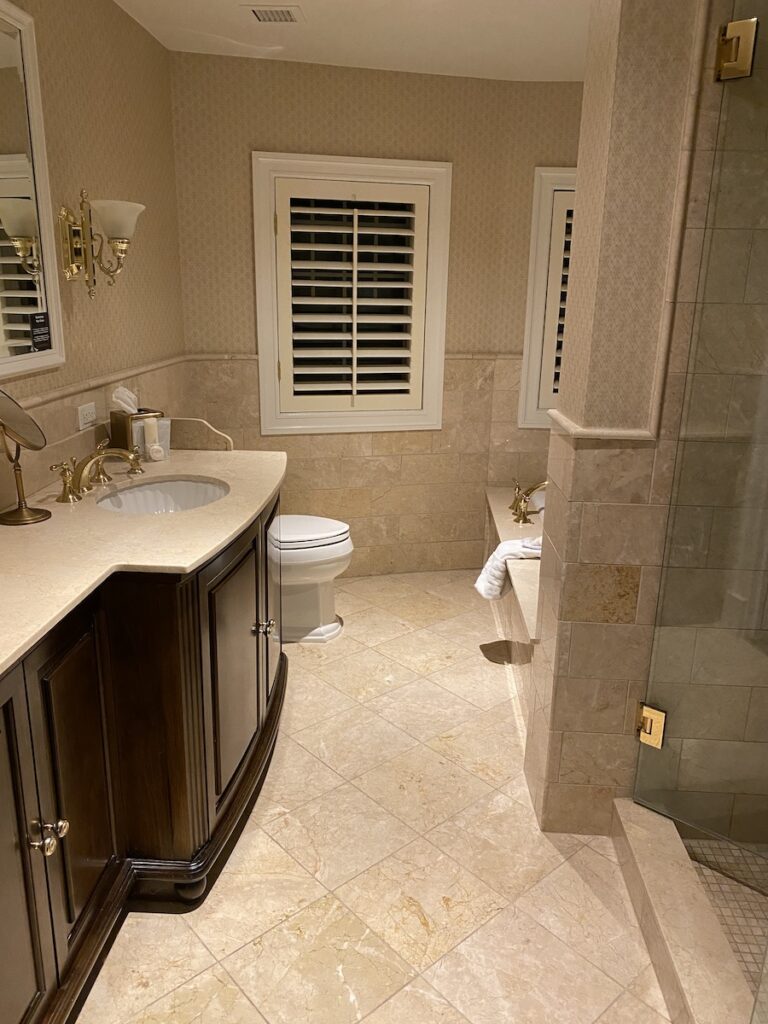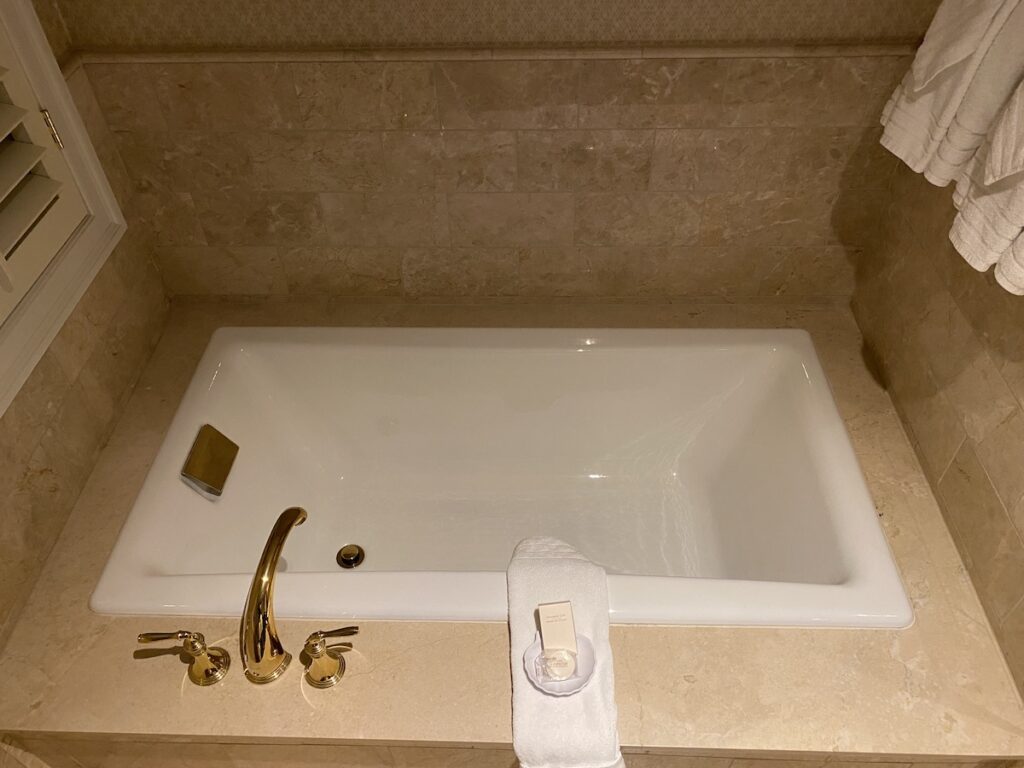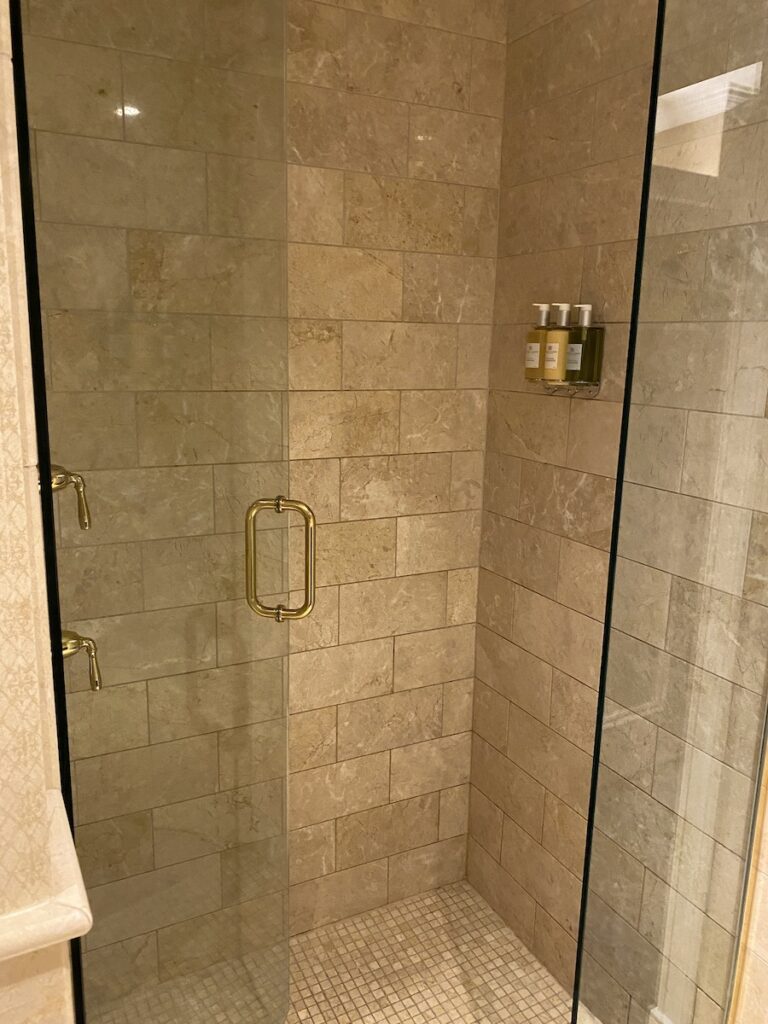 The staff was all very friendly. I always appreciate that in a hotel; especially a beach hotel where pretty much everyone is there with the goal of relaxation.
We did not dine at the hotel at the property as we couldn't get a reservation at a reasonable time. We arrived late our first night and brought in dinner from a local pizza place. On our second night, we dined outdoors at a small Italian restaurant in the town of Madison.
For breakfast, they dropped off this breakfast box as a Diamond benefit. A bit embarrassing if you ask me. Skimpy to start, but then are we supposed to fight over who gets which pastry or a juice? It's not pictured, but underneath this is one juice and one bottle of water – for two people.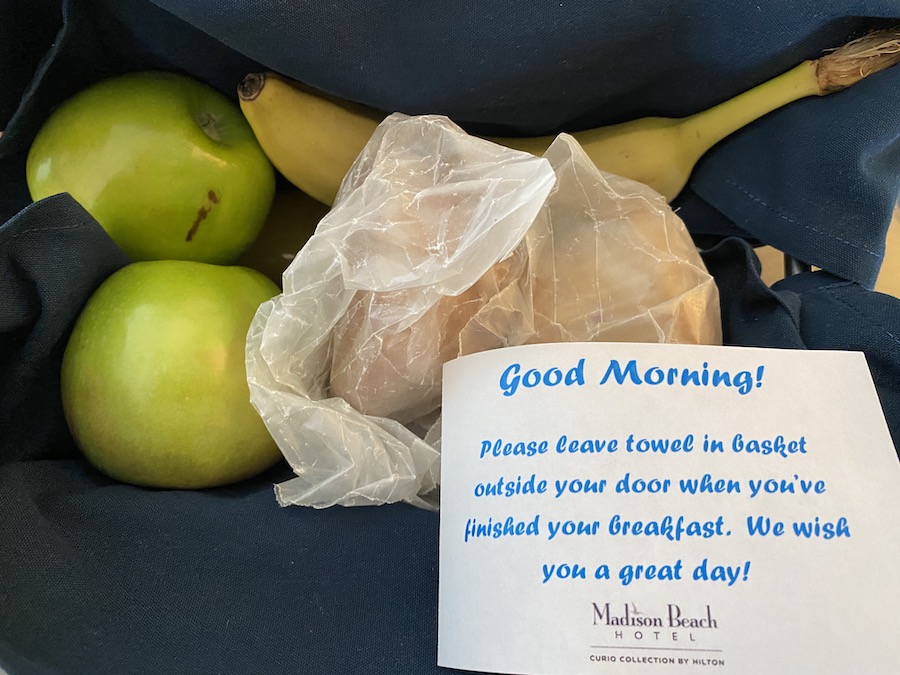 Instead, we walked around the corner to Cristy's. Unless you wind up with a real comped hotel breakfast (and maybe even then), you should go to Cristy's for breakfast. The food is superb. They may have the best pancakes I've ever had and you can have whatever fillings you want (I did chocolate chip and Reeses Pieces). The corned beef hash was also absolutely excellent – homemade with large pieces of corned beef.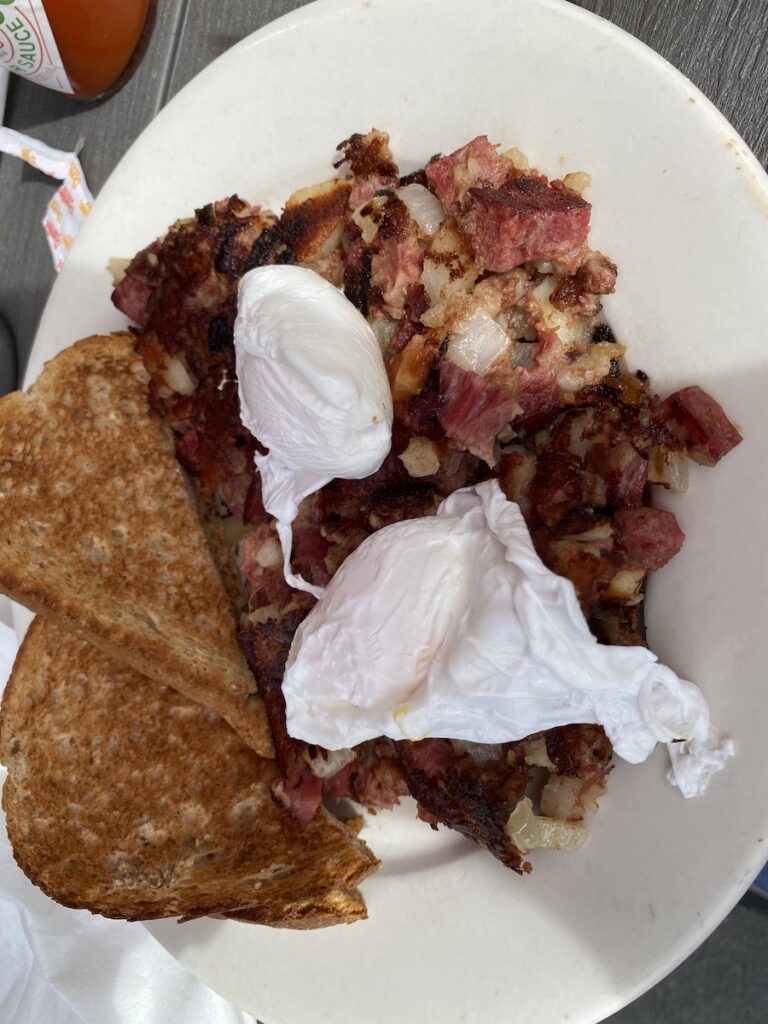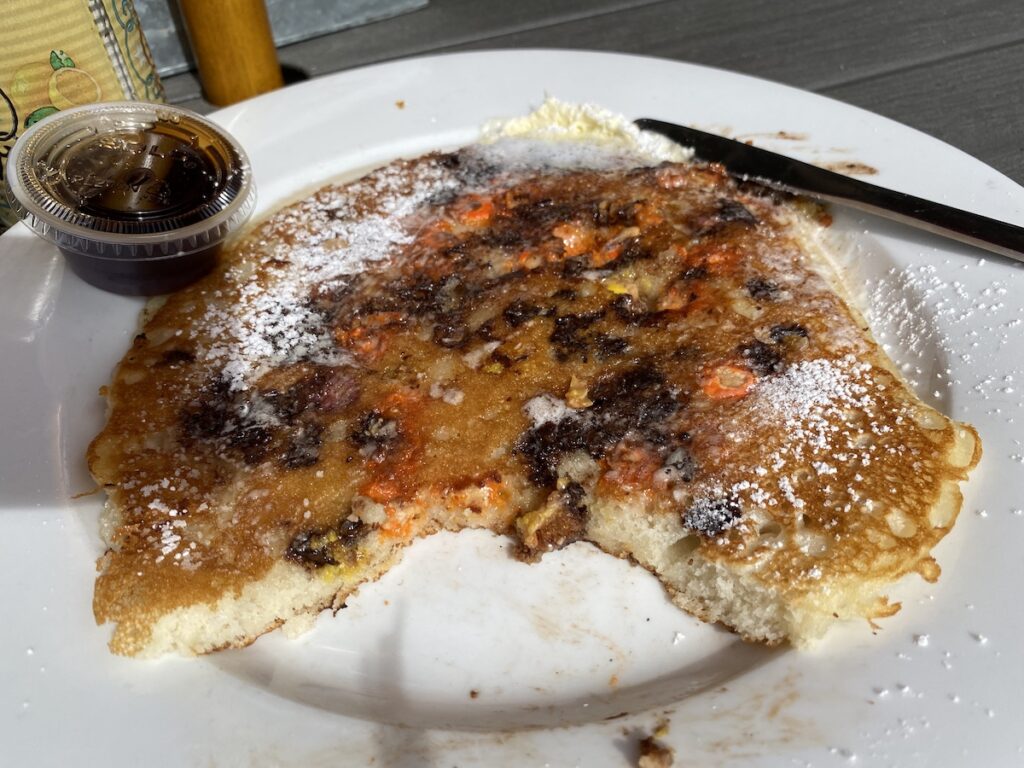 We took a nice bike ride on the road that runs along the beach on our first day. The smell of the water is always so calming and the houses are nice to ride by… I challenge you to try not to think about if one was your summer home!
There is also a nice, though small, private beach with included lounge chairs and food and beverage service.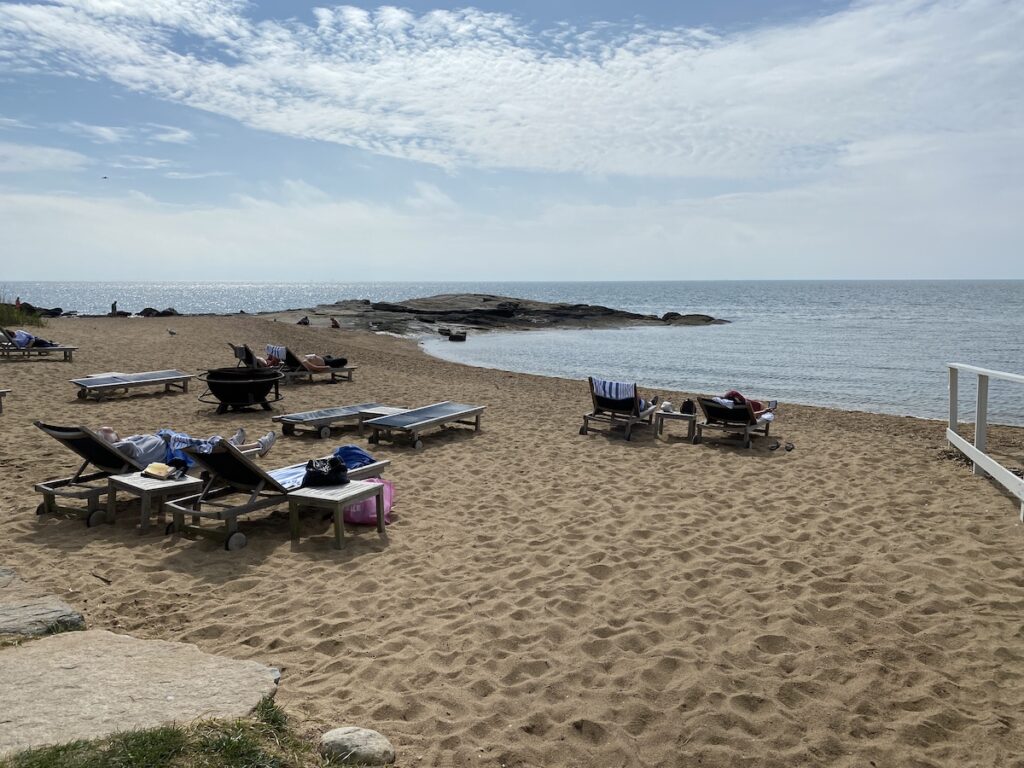 The next morning we took out two kayaks and went for about an hour. I have to compliment this hotel on the condition of their sea kayaks – specifically the back supports they have installed. I was able to sit upright without any strain on my back, meaning I was able to get a fantastic upper body workout. The water was mostly calm, but still a challenge.
Madison Beach Hotel: Need to Know
During the coronavirus pandemic, the hotel is not offering late checkouts, even for Hilton Diamond members. You may be able to request 12pm if you are lucky. If they aren't full the next day, *maybe* you could finagle 1pm.
Free breakfast for Diamond members at the restaurant is suspended – even on Sundays when they serve brunch at the restaurant. Instead you'll get a small breakfast box delivered to your door with a few pastries, one juice and one water (for two people).
Really, the only current Diamond benefit is a theoretical upgrade, but they've been sold out – so, realistically, you shouldn't expect that.
Complimentary beach loungers are available on the small private beach and they do provide food and beverage service (even now, during coronavirus).
Parking is $20 a day whether you self park or valet. The parking lot is *right there* and I don't understand the need to valet at all except I think it helps the hotel when they are full so they can double park cars. Unfortunately during our stay we witnessed an incident where the valet damaged someone's car trying to maneuver them close together.
Bike rentals are $12 per day
Kayak rentals start at $25 for a single person per hour and go up from there for a double kayak or a longer rental.
The town of Madison is small and quaint, with a handful of dining options, a coffee shop, etc.
Overall
It was a great beach weekend nearby to New York City (under 2 hours) by car and something that wasn't "The Hamptons" (as much as we loved using Hyatt points to stay in the Hamptons!). While it would be nice if they included some of the ancillaries like the parking, bikes, and kayaks given the high cash price, that certainly wasn't a deal breaker. The staff and beachfront location sealed the deal.
Thoughts?
Let me know below in the comments, on Twitter, or in the private MilesTalk Facebook group.
And if this post helped you, please consider sharing it!
You can find credit cards that best match your spending habits and bonus categories at Your Best Credit Cards. 
New to all of this? My "introduction to miles and points" book, MilesTalk: Live Your Wildest Travel Dreams Using Miles and Points is available on Amazon and at major booksellers.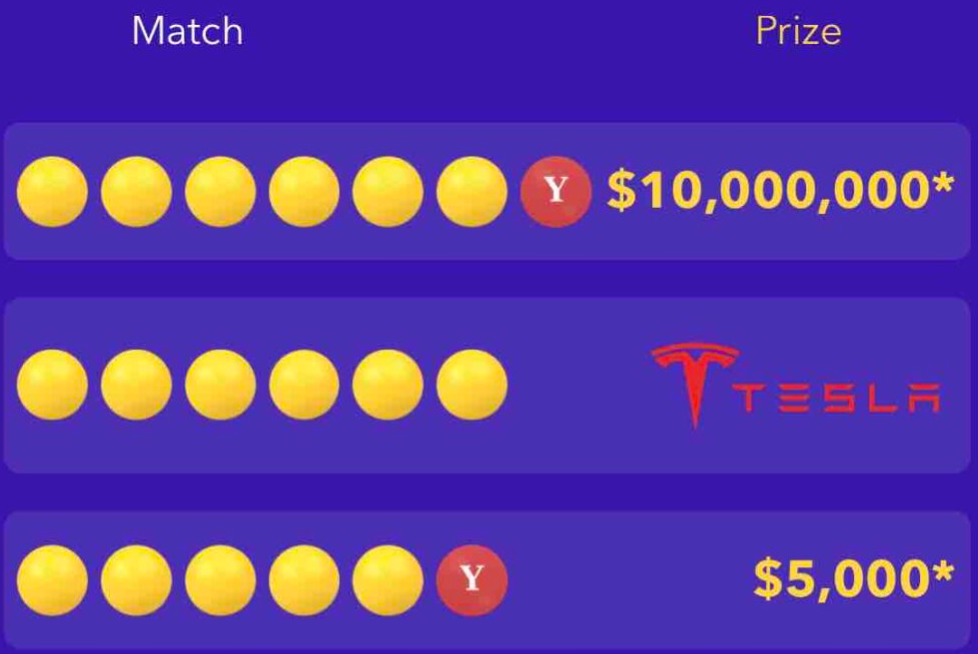 What is Yotta Savings?: The Yotta Savigs account is a really fun way to earn interest at a higher rate than Marcus while having some fun each night when the Yotta prize ball drops. Currently, the statistical odds imply a net savings rate of between around 1% and 3% - at a time when banks like Marcus are offering a paltry 0.5%. Plus, it's fun! | Read my review of Yotta.