Chase Sapphire Reserve credit card – Should you RUSH to get it??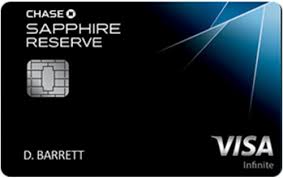 Did you miss a deal? Never again! Apply to join the members-only MilesTalk Facebook group
.
Advertiser Disclosure: MilesTalk has partnered with CardRatings for our coverage of credit card products. MilesTalk and CardRatings may receive a commission from card issuers and MilesTalk may also receive compensation for content. This site does not include all financial companies or all available financial offers. The editorial content on this page is not provided by any of the companies mentioned, and have not been reviewed, approved or otherwise endorsed by any of these entities. Opinions expressed here are the author's alone.
There's been SO much buzz lately in the travel blogosphere about this card.
It's Chase's answer to the recently decimated Citi Prestige card. I got the Prestige just before Citi ruined it last month.  I'll 100% cancel it next year after I redeem my second year of travel credits. So how excited am I for the Chase Sapphire Reserved?
I'm mildly  enthused. But I can wait until the application is live!
First things first.
People have been so excited for this card and the accompanying 100,000 Ultimate Rewards point bonus, they've gone a bit off the rails. Bloggers were advocating people sign up via a link that Chase was *clearly* using as a test development site (why it wasn't password protected, I have no idea).
Why? Did they think this 100,000 signup bonus was only intended to last for a few seconds? SO many people would swarm Chase for a card with a $450 annual fee that Chase's systems would crash and they'd abandon the 100k signup bonus overnight?  Come on.
TL:DR – If you want this card, wait for the official application link and get it there. You can get it right on Chase.com when it's fully available and you don't need to get it via any of the bloggers links that will earn them literally hundreds of dollars for your application.
Here's what we all know about this card at launch as of today:
100,000 point Ultimate Rewards bonus
Points redeemable at 1.5 cents per point on all travel (so it's at minimum a $1,500 signup bonus – you have my attention)
$450 annual fee
$300 annual travel credit good on any travel purchase (air/hotel, etc). While Citi Prestige is good for any airline expense (which one ups the Amex Platinum credit scheme), this one ups the Prestige by allowing any travel expense.  That really makes this a $150 a year annual fee card.
$100 Global Entry / PreCheck credit (presumably once every 5 years)
3x earned points on all travel and dining
The Visa Infinite benefits (although not quite the same as the Ritz Carlton Infinite benefits – at minimum there is NO $100 airfare credit)
The above includes PRIMARY rental car insurance domestically – which is actually a fantastic feature the Citi Prestige doesn't have
Priority Pass Select – you and your authorized users only – no guests, it seems (details on how many people enter free on this are unclear. Citi Prestige bestows you and 2 guests gratis.)
The bottom line:
This looks like a solid card if you want to carry a premium card product and I'm intrigued by the Visa Infinite branding.
At a minimum, you can sign up, get 100,000 UR points worth, at minimum, $1,500, pay the $450 annual fee, use the $300 travel credit this year AND next year, apply for or renew Global Entry, and net out with $1,750 in free travel AFTER paying the annual fee.
I kind of wish I didn't just get the Citi Prestige because I don't want to pay two annual fees of this size, no matter how much I'm actually making in the end, but I do want the 100,000 UR bonus and we don't know how long that will last. In fact, I'd say that bonus (the end of which I have to think will be well telegraphed by a round of blogger pumping when the day comes – much as they did with the Citi Prestige changes) will probably determine when I get it.  But there IS a risk that the 100,000 point bonus is pulled suddenly and that is a reason to get this the day it is publicly released.
Two other things to keep in mind:
This card will almost certainly may or may not be impacted by the Chase 5/24 rule, though people have suggested that a personal relationship with a Chase banker can potentially get you around this.
You cannot signup for this card too late in the year. You want to make sure that if you pay the annual fee once, you can get two years of travel benefits. So signing up in, for example, early December, would be the worst possible move.
A full list of benefits is available on the Chase website (though I've covered the pertinent parts above) if you want to read more.
For even MORE reading, the Chase Private Client page also has the same details – laid out differently.
As of 2:28ET on Sunday Aug 21, the public link to apply is still not out – but it should be tomorrow at the latest.